Fortuna WEALTH MANAGEMENT
financial advisors having experience of
More than 15 years
Fortuna Wealth Management - one stop for all financial investment , is a more than a decade old company with financial advisors having experience of 14 years dedicated to serving individuals and corporates by investments through various instruments like portfolio management , financial planning, mutual funds, Life Insurance , Health Insurance, real estate, to help and facilitate investor's financial planning to achieve their goals and tax saving .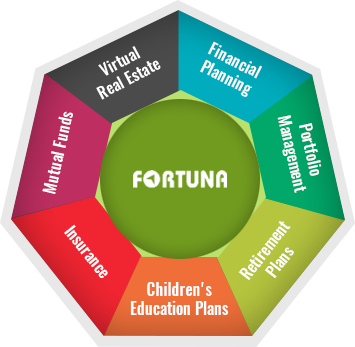 Insurance provides financial protection
against a loss arising out of happening
of an uncertain event.

Fortuna Wealth Management is dedicated to
developing General Insurance on professional,
healthy and ethical lines.

Mutual Funds are essentially investment vehicles
where people with similar investment objective
come together to pool their money and then
invest accordingly.

Taxes are said to be as inevitable in life as death
and it is our social responsibility to pay them.
Taxes are burdensome for all taxpayers.
Useful financial calculator tools for loans, car/auto loans, compound interest, savings, mortgages and more...

Click here